By: Sydney Gallimore
Get ready folks because we're just about a month away from the kick off of my favorite time of the year: the Charleston Wine + Food festival! This year's festival is slated to be bigger than ever, and while I'm always excited to see my favorite Charleston chefs, having moved to DC recently, I am especially excited to get to meet all of the out-of-town chefs coming in for the festival.
In that vein, I took the time to speak with James Beard Award semifinalist Reem Assil of Reem's in California. Reem is a Palestinian-Syrian chef who uses her blended heritage to and talent for baking to bring together her three passions: food, community, and social justice. I had a wonderful time speaking with her and can't wait to meet her in person at the festival!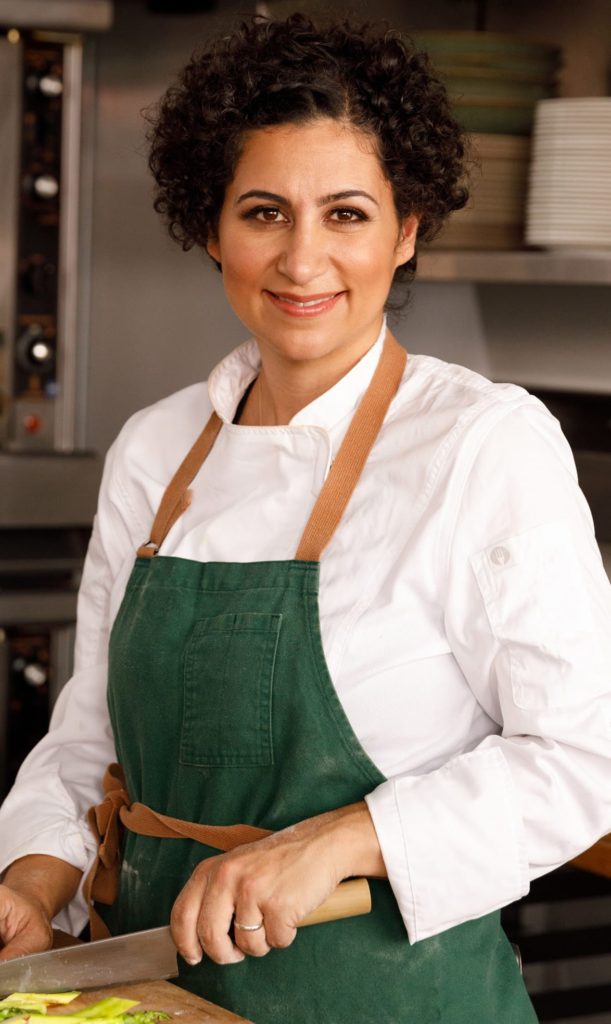 Growing Up On Hummus and Mac + Cheese
Reem: I grew up in Palestinian-Syrian household. My parents emigrated in the early 80s. Mom grew up in Lebanon most of her life… that's where my parents met. My household was very Arab growing up, but I lived in a little suburb outside of Boston. It was a fascinating juxtaposition of Arab and Americana. I always say that I grew up on hummus and macaroni and cheese.
Breaking Into Baking
Reem: I grew up with that traditional value that you go to school to be a doctor or an engineer… so my parents were very concerned when I said that I wanted to be a baker. Originally I got a job at a non-profit but, food has always been the backdrop of everything I did. I got into baking recreationally and then decided to quit my job and pursue it full time. I enrolled in a baking & pastry 2 year program and landed a job about 1 year in at a bakery co-op where I learned how to be both a baker and an owner. I aways knew I wanted to start my own thing and used everything I learned in those contexts to learn about my own cuisine and how those techniques overlap.
International Inspiration
Reem: Going to Lebanon and seeing the bakeries there… I just fell in love with that feeling. Those street corner bakers are anchors in the community. The matriarchs in the family were always the alchemists, creating something out of nothing. That's what baking is all about. The thing that really sets the bakeries in Lebanon apart is the theatrics of everything. It's like a party. You go into a bakery and it's not serious, it's an extended part of your family, very communal, something that is rare to find in the US anymore.
Baking Without Borders
Reem: Bread is my inspiration because every culture has some way of breaking bread. It's a lifeline in the history of my culture, but there are so many elements of bread that transcend any culture: the smell, generations of people going in and waiting for their pastries, kneading dough… you see those things in a lot of cultures. I wanted to create that in a way that spoke to my culture specifically.
Putting On A Show
Reem: When I started, we were in farmers markets. It was literally an open kitchen in front of everyone, and I think part of the attraction is getting to see your food being made from scratch, You see people stretching the dough, putting it on a pillow, and then cooking on the griddle, and then you wrapping it around fresh veggies. Customers get to see everything happening and all the workers working together, with the Arabic music playing… it's very immersive. We wanted it to be accessible to more people but still be a very high level, high-quality food experience.
More Than A Restaurant
Reem: When I started, I was very intentional. Having come from a social justice background, I've seen how people, especially immigrants from the Arab world, were hiding their food and marketing it as Mediterranean to be more palatable to American sensibilities. I made a conscious decision to market my food as Arab, which some people think of as being a "bad word," but I really wanted to emphasize that it's not a bad word and make Arabs feel proud to be Arab and celebrate our culture. I feel like I succeeded in helping to make the word "Arab" more mainstream. For better or for worse, we're in a time when people really want to work for social justice and become galvanized. We now have allies and supporters and we've benefited from people wanting to understand the intersections between food and culture and social justice. I have a platform. My food is not just the food, it's everything around the food: the story behind it, the spaces I create, it all makes a difference.
First Time at CHSWFF
Reem: I'm really looking forward to my trip to Charleston. This region of the country is super fascinating to me. I took a trip to the deep south when I was young, and I am so fascinated by the history, the struggles, and especially how that history is told through food. I haven't met a lot of folks through the food world from that area, so I'm really looking forward to that. I'm excited to be having these harder conversations about food and access and race–these timely conversations that people are starting to have–and to be able to have the space and avenue to share my perspective is very exciting. These events are always interesting, as you never know what to expect. All of these opportunities, I use to learn and grow as a person and a chef. I hope to learn and be inspired and bring that back with me to my restaurants.
Tickets for Reem's Breaking Bread workshop during the festival are still available, so get them before they sell out!
Sydney Gallimore is a food writer based out of Washington, DC. She is also a member of the Charleston Wine + Food Brand Ambassador team. You can connect with her on Instagram at @queenofthefoodage and on her blog, queenofthefoodage.com.
*Note: this interview was edited for clarity and space*